With the first interview on our site, I am honored to present Darko, a great coach and a great mentor for me personally and I am sure for many other coaches. So without further ado here are the questions and answers:
First let's start with a small introduction of yourself coach, help us get to know you by sharing your name, age(optional), country, and where you've coached and are coaching now:
Darko, 41, worked in a few countries from which I will name some like Romania, Italy, Estonia, and Kazahkstan.
How did you fall in love with basketball?
By watching Utah Jazz in 90′ with Stockton-Malone duo
How did you end up being a coach? What's the story behind it? What was the first time you went "This right here is the job for me"?
That was my third year as a coach, it was still a part-time job, and I was 26 at the moment. I realize that this is the perfect job for me because I have the opportunity to do something that was part of me every day for the last 15 years.
What do you consider the hardest part about coaching?
People(players) managing.
What makes you really happy about coaching?
Competition.
Who is your inspiration as a coach? Do you have a mentor coach?
Duda, Zeljko, Pesic, Dule.
What does your ideal player have as qualities (from physical to mental qualities, as many details as possible)?
It depends on position skill vise.
As mental, he must be a winner. In my criteria that means, he always plays to win, with no calculations. He communicates with teammates on how to play better. No excuses.
What do you feel are your main strengths in coaching?
Communication, feel for the game.
What areas do you feel that you need improvement in?
X and O.
Do you have any goals for the future, something that you want to reach in the future?
Goals are changing when you have family, but as long-term goal is to climb as high as possible in a coaching organization. To coach on the highest level possible.
What's the wildest game memory you have (player or coach)?
When the opposing team forgot their player in the locker room and they locked him. He climbed through the toilet window and mange to come to the last minute of the game, and score buzzer beater.
How do coaches deal with the "loneliness of the coach", when practices or games don't go the way they should? Do you dwell on mistakes a lot?
You analyze it for a moment, then en you move on.
You should know that not everything is in your hands. Some things you just cannot control every time.
Do you think a basketball coach's life is difficult or easy, or a mix of both, and would you care to explain why? "
When you win is easy and nice, when you lose, it can be hard. The hardest thing coaches can accept is that not everything is under their control. Those coaches who don't realize this, can have big problems in life, or even quit coaching.
What qualities does an assistant coach have to have to be able to work with you? What are you looking for in an assistant coach?"
To be able to connect with players, in a way that he is not their best friend, but a coach.
And that he can absorb players coming on the bench when the game starts.
To calm them down in need, and prepare them to play again.
What's your suggestion for new coaches or players who want to go pro, do you have any tips? If you were not a coach, what would you be and why?
Invest in yourself every day.
But don't allow that family gets hurt because you chose your dream. Have balance in life
If you were not a coach, what would you be and why?
Chef in a restaurant.
And the last one, we promise, what do you do besides basketball, what keeps you sane?
Family, quality time with friends, meditation.
Thank you for taking the time, hopefully, we will be able to do this in a podcast way very soon or maybe live if possible.  Thank you again for answering and helping a lot of coaches including myself to get a better inside look at what it means to be a coach.
Author Profile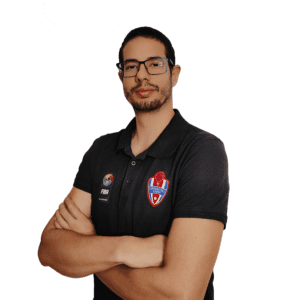 I am an international basketball coach, working around the globe spreading the love of basketball one country at a time. So far I worked in Serbia, China, and Romania, working as a youth and senior coach, creating camps, working individually with players preparing them for senior teams or USA college, and trying to work my way to the top. Currently working on getting my FIBA coaching license, while I am in possession of a Serbian Blue Coaching License and a Romanian "A" Coaching license.